It is our mission to create a place where people can come to seek solutions to their health problems; including answers to their health questions, relief of their pain, solutions to their illness, and ways to maintain the health they have.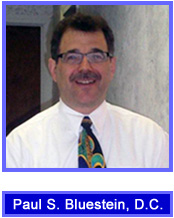 We are pleased that you found us, and we endeavor to provide the best chiropractic care available. This website is designed to answer the questions most frequently asked about chiropractic, and tell you about the care and programs we have to offer. As always, our staff will be more than happy to answer any questions you may have, and assist you in any way possible.


© 2009-2018 Paul S Bluestein DC. All Rights Reserved.